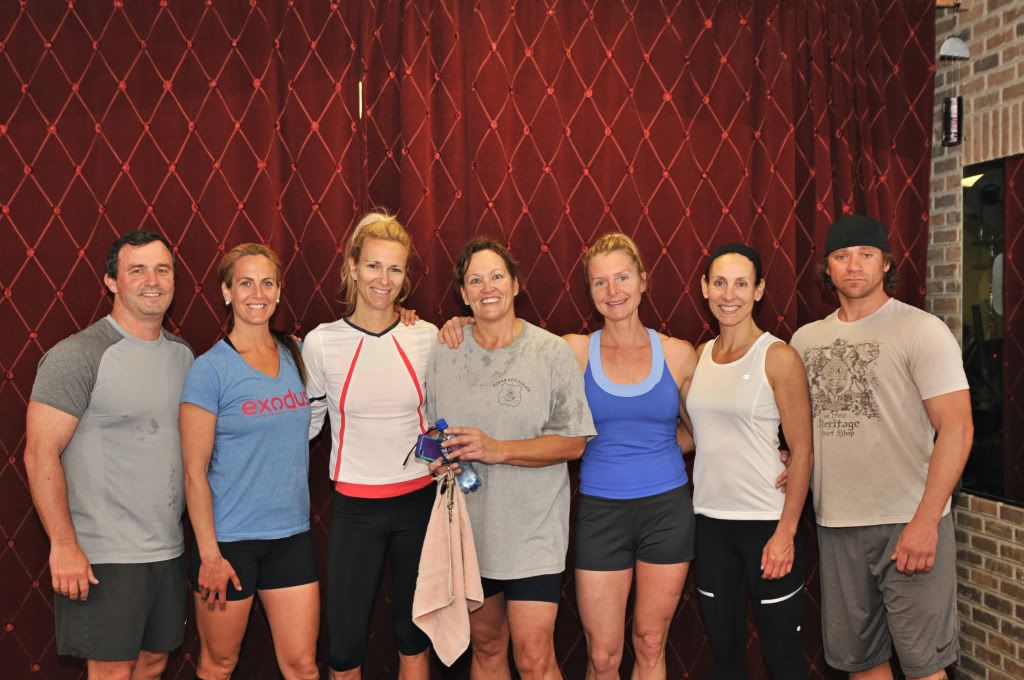 Exodus Integrated Wellness is a fitness and wellness business designed to improve the lives of our client's.  By using a multi disciplinary approach to wellness, the practitioner's work together as a team to evaluate and design individualized programs that address the specific needs and goals of the client.  Our highly qualified team of professionals consists of a clinical dietician, general practitioner, exercise specialist, sports performance coach, massage therapist, energy worker and lifestyle consultant. We believe the whole is the sum of it's parts, therefore it is important to address each of these areas for optimal wellness and peak performance. The Exodus mission statement is "to elevate the client to a higher state of wellness through education and prevention in an integrated, holistic environment".

At Exodus our overall goal is to provide a personal, positive experience.  Whether you are a private training client, taking group classes or relaxing with a massage, creating your individual path to success is our focus.  This personalized approach to fitness and wellness is what makes your experience so unique.  So, whether you begin your path with a consultation from a wellness practitioner or decide to create your own journey through group classes, nutrition and massage, we at Exodus Integrated Wellness truly believe in healing the self through the timeless aspects of the mind and body.  It's time for you to journey to a higher place.


The group classes are focused on the individualized approach in a group setting.  We strive to meet the overall goal of the class while addressing each...

Total Speed Training consists of retraining the entire body to move in an efficient and powerful way.  By increasing range of motion and...

One on one training is offered at Exodus by our highly qualified team of exercise specialists.  After a comprehensive evaluation, goals are set and a...
 

2013 INTEGRATED FITNESS

"Wellness is the integration and balance of your mind, body and spirit"

EXODUS IS EXPANDING!


Exodus Sweat Shop is in construction.  We are expanding our boundaries to offer you a place to get Strong, Fit and Sweat it Out!  Whether you are looking to increase athletic performance or bring out your inner athlete for the sport of life.....Exodus Sweat Shop is going to be the place to find your true potential.  Come see for yourself.  Open June 1st!  Complimentary first time visit.

UPCOMING EVENTS:

OC TRI Race Prep Bike/Run Workout, Thursday, May 9th 5:30am.  Come learn about bike, run, transition and race day prep.

Life as Meditation with Shanti Desai, Sunday, May 19th 9am-3pm.

Ocean City Tri/Dualthon, Sunday, May 19th.

STAND UP FOR SEALS PADDLE AND OBSTACLE RACE, Saturday, May 25th 7:30am-Exodus is putting teams of 4 together for Obstacle Course 2 mile Beach Challenge. Saturdays and 7am and Sundays at 10:15am are Obstacle training classes.

Expand Yourself Meditation and Yoga Flow with Amy Godfrey Sunday May 26th 9am.  Smoothies and Juices freshly prepared afterwards by our Holistic Nutritionist DanielleLombardo.

 

MAY SPECIAL.....GET BEACH BODY READY

Meet with our Nutritional Trainer, Get our customized "beach body" nutrition plan, 1 month of unlimited group classes and daily motivation and guidance through email consulting for $200

Purchases must be made in May




**Like and Follow us on Facebook for Daily Updates and News**


We do ask that you call or email to make an appointment before coming to Exodus.  If you are looking for information on joining classes, beginning a training program or coming in for a massage, we kindly ask that you email or call to make an appointment so we can assist you properly.  Thank you.