Schedule and Class Description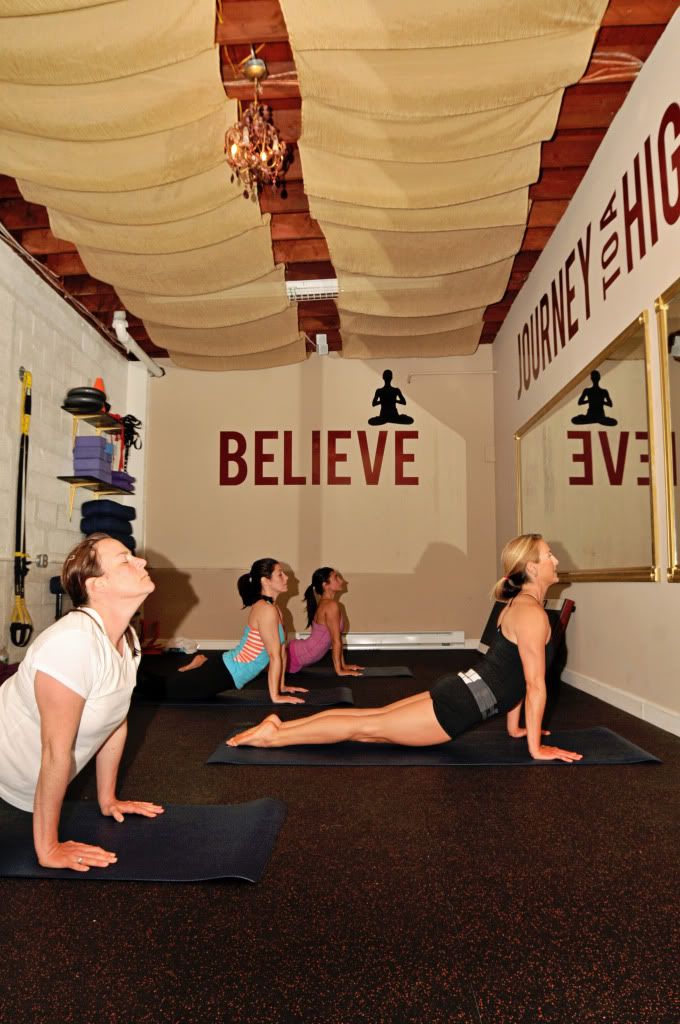 WINTER 2013
Integrated Fitness
Monday:
9am Body Sculpting
Tuesday:
5:30am Endurance
9am Fitness Fusion
Wednesday:
9am Butt, Gutts and Guns
6pm Boot Camp Fitness
Thursday:
5:30am Cyclo Cross
9am Fitness Fusion
Friday:
9am Hot Hatha Yoga
Saturday:
7am  Endurance
8am Pure Strength
9am Body Sculpting
Sunday:
9am Power Vinyasa Yoga
10:15am Bootcamp Fitness
CLASS DESCRIPTIONS:
Boot Camp Fitness:  Improve your muscular strength and overall stamina in this high intensity class that challenges your mental and physical toughness and gets you in tip top shape.  Level 111
Pure Strength:  This class is designed to get you stronger by completing compound lifts such as the squats, deadlifts, chest press, pullups.  Low reps, high weight will get you strong and increase the quality of your fitness.
Fitness Fusion:  This is an integrated workout giving you the most bang for your buck!  You will enjoy a yoga warm up, cardio and core training intervals and a yoga cool down.  This is our signature workout for Winter 2013.
Body Sculpting:  Body sculpting involves a combination of shaping the body for a balanced and symmetrical appearance, and defining the muscles to obtain a slim, athletic physique. If you want it, you can get it with this winning combination of training and clean eating!
Exodus Endurance:  Endurance athletes (in sports like running, cycling, swimming and rowing) will benefit with this cardiovascular and muscular endurance training to help athletes go faster, further, with less work.  This class will include longer bouts of cardio with muscular endurance, core work and stability training mixed together for an exceptional endurance workout.
Hot Hatha Yoga:  This is an integrated yoga class combining breathing, postures, mantras and meditation in a heated room.  It is vigorous flow that will challenge your mental and physical stamina and strength, but will restore you with relaxation and visuallization.
Vinyasa Yoga:  Vinyasa is a strong and powerful class in which movement is synched with breath.   This intense and athletic class builds strength, flexibility, mental focus  and stamina.  We use our breath as an anchor to listen to our bodies, stay present to the moment and know when to add more effort or where to find more ease.  Power Vinyasa Yoga is rewarding in the sense that it can be modified for any level, allowing practitioners of all abilities to feel both challenged and supported.  This class is suitable for all levels.
**an evaluation is recommended before beginning classes at Exodus so we can help tailor the classes to your specific needs and create a balanced fitness program for you to follow to meet your goals.
*please sign up and purchase all classes online under our reservations tab.  If you do not sign up there is no guarantee class will be offerred.  Thank you.

The group classes are focused on the individualized approach in a group setting.  We strive to meet the overall goal of the class while addressing each...

Total Speed Training consists of retraining the entire body to move in an efficient and powerful way.  By increasing range of motion and...

One on one training is offered at Exodus by our highly qualified team of exercise specialists.  After a comprehensive evaluation, goals are set and a...
 

2013 INTEGRATED FITNESS

"Wellness is the integration and balance of your mind, body and spirit"

EXODUS IS EXPANDING!


Exodus Sweat Shop is in construction.  We are expanding our boundaries to offer you a place to get Strong, Fit and Sweat it Out!  Whether you are looking to increase athletic performance or bring out your inner athlete for the sport of life.....Exodus Sweat Shop is going to be the place to find your true potential.  Come see for yourself.  Open June 1st!  Complimentary first time visit.

UPCOMING EVENTS:

OC TRI Race Prep Bike/Run Workout, Thursday, May 9th 5:30am.  Come learn about bike, run, transition and race day prep.

Life as Meditation with Shanti Desai, Sunday, May 19th 9am-3pm.

Ocean City Tri/Dualthon, Sunday, May 19th.

STAND UP FOR SEALS PADDLE AND OBSTACLE RACE, Saturday, May 25th 7:30am-Exodus is putting teams of 4 together for Obstacle Course 2 mile Beach Challenge. Saturdays and 7am and Sundays at 10:15am are Obstacle training classes.

Expand Yourself Meditation and Yoga Flow with Amy Godfrey Sunday May 26th 9am.  Smoothies and Juices freshly prepared afterwards by our Holistic Nutritionist DanielleLombardo.

 

MAY SPECIAL.....GET BEACH BODY READY

Meet with our Nutritional Trainer, Get our customized "beach body" nutrition plan, 1 month of unlimited group classes and daily motivation and guidance through email consulting for $200

Purchases must be made in May




**Like and Follow us on Facebook for Daily Updates and News**


We do ask that you call or email to make an appointment before coming to Exodus.  If you are looking for information on joining classes, beginning a training program or coming in for a massage, we kindly ask that you email or call to make an appointment so we can assist you properly.  Thank you.