FITNESS:
Fitness Assessment and Program Design: A comprehensive evaluation including musculoskeletal, functional, muscular strength and endurance, flexibility and cardiovascular testing. A detailed plan is developed for you to address your specific needs and goals.  

Private Training: Private training is offered at Exodus by highly qualified instructors to suit your individual needs.  We provide one on one individually tailored programs in disciplines ranging from sports performance training to post rehabilitation.  

Semi/Multi Private Training: Training with a friend or in group sessions brings comraderie and team work.  Find a partner or find a group that is committed to getting healthy and fit and let Exodus guide you on your journey.

Specialized Programs: Whether you are interested in Speed Training, Strength Conditioning, Weight Loss, Lifestyle Enhancement, our specialized programs allow you to explore your true potential by guiding you step by step until you reach your destination.

Group Classes: The group classes are focused on the individualized approach in a group atmosphere.  We strive to keep our classes perfectly challenging, highly educational, truly inspiring and most definitely fun.
Online Training: Let us help you reach your fitness goals by setting you up on a personalized program you can follow on your own and guiding you each day through email.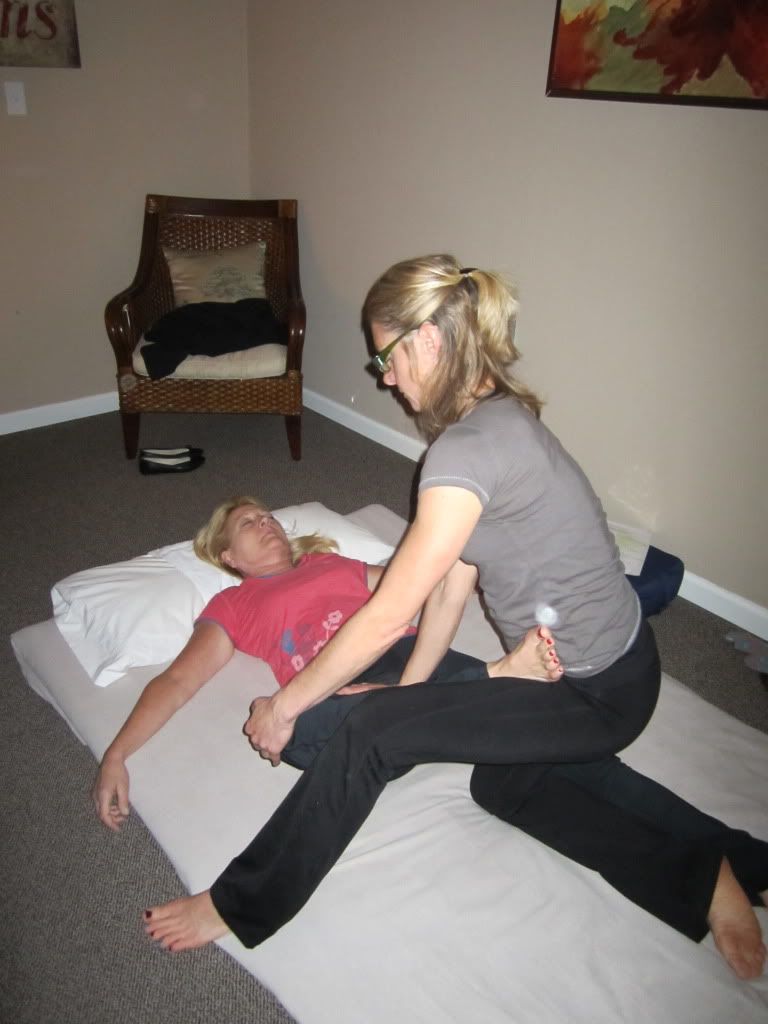 WELLNESS:
Lifestyle Consultation: Wellness is the healthy balance of the mind, body and spirit.  This consultation will help balance all areas of your life in order to create harmony and inner well being.

Nutritional Consultation: Guidance is provided on choosing foods and supplementation based on individual requirements to support healing and overall well being.

Integrated Massage: Integrated massage combines deep tissue massage with age old techniques of stress reduction to modern pain relief.  This massage will restore your body's natural balance through a combination of techniques.
Thai Massage: Thai massage is a combination of assisted passive stretching, acupressure and compression which lengthens muscle fibers, softens fascia and energizes the whole body.
Hot Stone Massage: This deeply relaxing massage promotes deeper muscle relaxation through the placement of smooth, water-heated stones at key points on the body.  Hot stone massage therapy melts away tension, eases muscle stiffness and increases circulation and metabolism.
Active Isolated Stretching: Restore your body after a hard week of workouts with this method of muscle lengthening and fascial release.  This is a type of Athletic Stretching Technique that provides effective, dynamic, facilitated stretching of major muscle groups and helps keep a healthy range of motion in body to prevent injuries.
Personalized Cooking: Custom prepared meals nutritionally, calorically and tastefully designed to suit your needs.
Cooking Demonstrations: Learn how to cook from our one of our local top chef's, Lisa Savaradio (owner of Sage Restaurant and Famous Chop Chef contestant!) This event features recipes that reflect the seasonal flavors and your personal choice of food
Private Parties:
Celebrate Birthdays, Girls Night Out, Bridal Showers, Bachelorette Parties, Family Reunions, Weddings, Graduations, and more with your own personal Fitness and Wellness Party!  We will customize the party to suit your needs by combining a workout, massage, lectures, gourmet food and a special environment for you and your guests.
EXODUS FITNESS AND WELLNESS RETREAT:
Exodus Integrated Wellness Fitness and Wellness Retreat is the ultimate get away to transform your self and your life from the inside out. Our goal is to educate, motivate and elevate you to a higher state of fitness and wellness in an integrated, holistic environment.  The Retreat is located in Ocean City, New Jersey where you can enjoy our beautiful beaches, boardwalk, open bay and local attractions  just 30 minutes from Atlantic City, 1 hour from Philly and 2 ½ hours from New York City.   If you are looking to get Stronger, Faster and Healthier our Fitness Retreat will offer you the tools to increase your athletic performance, lose weight or jump start your fitness program.  Our Wellness Retreat is designed to help you Relax, Restore and Rejuvenate by allowing you to experience physical healing, emotional freedom and a higher state of consciousness.  We will design a customized vacation package to suit your individual or group needs so you can experience personal transformation.  If you are looking to make positive changes in your life, we are here to guide you on a journey to your higher self.
RESERVATIONS:
Group classes and personal training space is limited. Please purchase and book your class online.


CANCELLATIONS:
We require a minimum of four hours advance notice to change or reschedule any appointment.  Without proper advance notification guests are charged at full rate.
The group classes are focused on the individualized approach in a group setting.  We strive to meet the overall goal of the class while addressing each...

Total Speed Training consists of retraining the entire body to move in an efficient and powerful way.  By increasing range of motion and...

One on one training is offered at Exodus by our highly qualified team of exercise specialists.  After a comprehensive evaluation, goals are set and a...
 

2013 INTEGRATED FITNESS

"Wellness is the integration and balance of your mind, body and spirit"

EXODUS IS EXPANDING!


Exodus Sweat Shop is in construction.  We are expanding our boundaries to offer you a place to get Strong, Fit and Sweat it Out!  Whether you are looking to increase athletic performance or bring out your inner athlete for the sport of life.....Exodus Sweat Shop is going to be the place to find your true potential.  Come see for yourself.  Open June 1st!  Complimentary first time visit.  Get your Inner Athlete On!

MEMORIAL DAY WEEKEND EVENTS:

Please note***There will Be NO CLASSES SATURDAY, MAY 25th.  We will all be participating in the Stand Up for Seals Obstacle Race.  Come join us!  If you would like to schedule a private session, please give us a call or send email.

STAND UP FOR SEALS PADDLE AND OBSTACLE RACE, Saturday, May 25th 7:30am-Exodus is putting teams of 4 together for Obstacle Course 2 mile Beach Challenge.

Expand Yourself Meditation and Yoga Flow with Amy Godfrey Sunday May 26th 9am.  Smoothies and Juices freshly prepared afterwards by our Holistic Nutritionist DanielleLombardo.

Sunday, May 26th 10:15am Bootcamp Fitness.  Get Strong, Fast and Fit with Brian.

Monday, May 27th 9am GET STRONG with Amy,  10am Power it up...High Intensity Intervals designed to maximize your workout

 

MAY SPECIAL.....GET BEACH BODY READY

Meet with our Nutritional Trainer, Get our customized "beach body" nutrition plan, 1 month of unlimited group classes and daily motivation and guidance through email consulting for $200

Purchases must be made in May




**Like and Follow us on Facebook for Daily Updates and News**


We do ask that you call or email to make an appointment before coming to Exodus.  If you are looking for information on joining classes, beginning a training program or coming in for a massage, we kindly ask that you email or call to make an appointment so we can assist you properly.  Thank you.