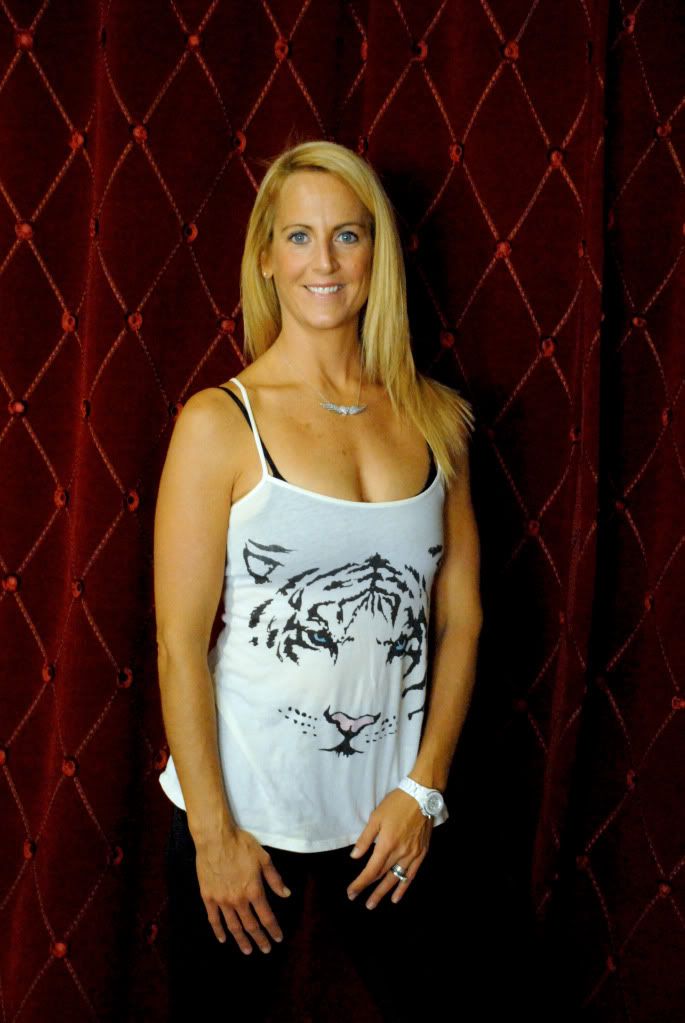 Amy Godfrey: Founder.  Amy graduated from the University of Maryland with a BS in Communications and a minor in Health and Fitness.  She worked in DC throughout college designing health programs for government facilities such as The Department of Justice and The Department of Energy.  After graduating, Amy opened her own personal training business in the Georgetown/DC area training politicians, athletes and various clientele.  Amy then moved to New York City and managed the fitness department at the Reebok Sports Club.  She managed a team of 50 trainers, nutritionists and sports staff.  She then moved onto a small, upscale wellness center called La Palestra Center for Preventative Medicine.  The team worked together to manage the business and train a very elite clientele.  Amy was sent out to Beverly Hills, CA to open a similar business on Rodeo Drive.  She created the fitness side of a fitness, medical, spa business by designing, implementing and managing the department.  Amy then moved back to Philadelphia where she was born and raised and began working at The Sporting Club at the Bellevue.  She ran the fitness department of a 100,000 sq ft sporting facility.  Amy now lives in Ocean City, New Jersey with her husband, daughter and two sons.  She loves staying healthy and fit by training for marathons/triathlons, practicing yoga and teaching others how to embark on the path to wellness.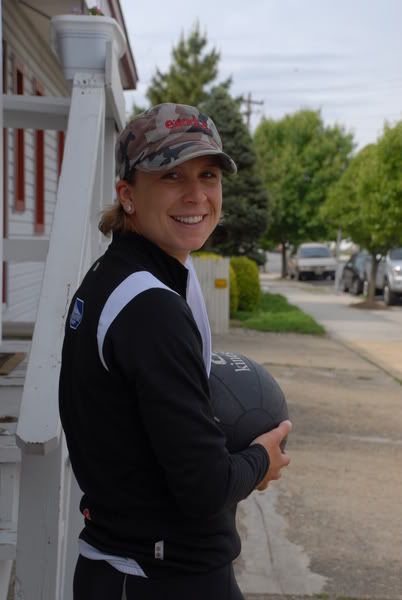 Carrie Merritt: Exercise Specialist.  After graduating from the University of Connecticut with a degree in Marketing and working in the corporate world, Carrie realized her passion was teaching.  Although her usual clientele is "pint sized", she is eager to use her teaching skills to help the clients at Exodus reach their fitness or performance goals.  Carrie's training philosophy is the same that she promotes in her kindergarten class: "Work hard and have fun while doing it!"  After a collegiate softball carreer, Carrie became a competitive triathlete.  You will often find her tapping on her bike pedals or trying to stay afloat in the water.  Exodus Integrated Wellness has become an integral part of Carrie's life.  To share the passion of fitness and wellness with the clients is a source of pleasure in Carrie's day.  A perfect day for Carrie is two workouts, a cup of coffee and a peanut butter and jelly sandwich.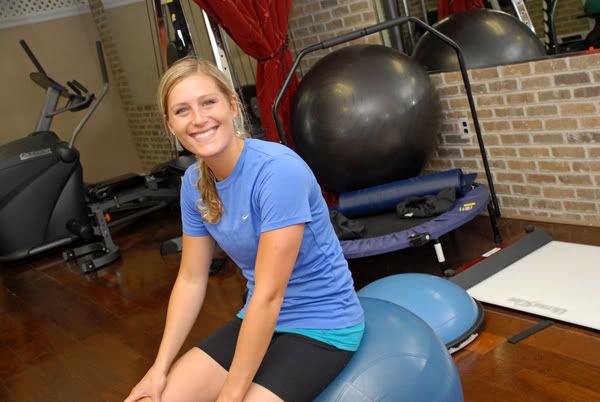 Lauren Nicholls: Exercise Specialist.  Exercising and staying fit has always been a part of Lauren's life.  Whether it was playing soccer, lacrosse, swimming or running track, she was always involved with sports.  After high school, Lauren began attending a local community college to pursue nursing.  Since there weren't many sports offered, Lauren began to pursue a path to physical fitness on her own. She then realized she has a true passion for learning and teaching others how to incorpoate fitness into their lives. Lauren has found her true calling in the fitness business as an Exercise Specialist.  Lauren's goal is to encourage and guide clients toward an active, healthy lifestyle and help them enjoy all aspects of being physically fit for the rest of their lives.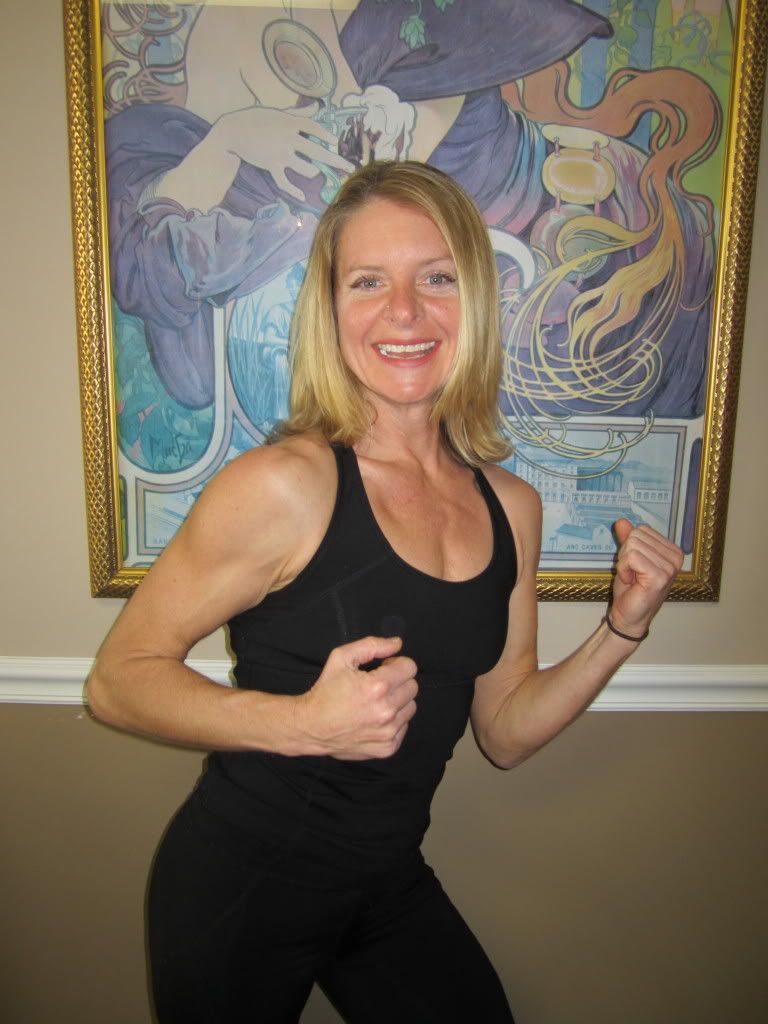 Victoria Lisa: BodyWork Therapist.  Victoria is a licensed massage therapist with American Massage Therapy Association.  She has been involved in the health and wellness industry since 1993.  After graduating Valedictorian from Von Lee International, she began a successful career in esthetics.  In 1995, Victoria began her studies as a licensed massage therapist where she found a passion for the therapeutic benefits of body work.  Since that time, she has obtained certification for numerous modalities of massage including Ki Relaxation Techniques, Sports Massage Therapy, Hot Stone, Deep Tissue and the fundamentals of Thai Massage.  She went on to be the sole proprietor of a small day spa helping to educate women on the importance of balance mentally, physically and spiritually.  Today Victoria resides in Ocean City with her son and daughter where they enjoy the simple pleasure of a healthy lifestyle.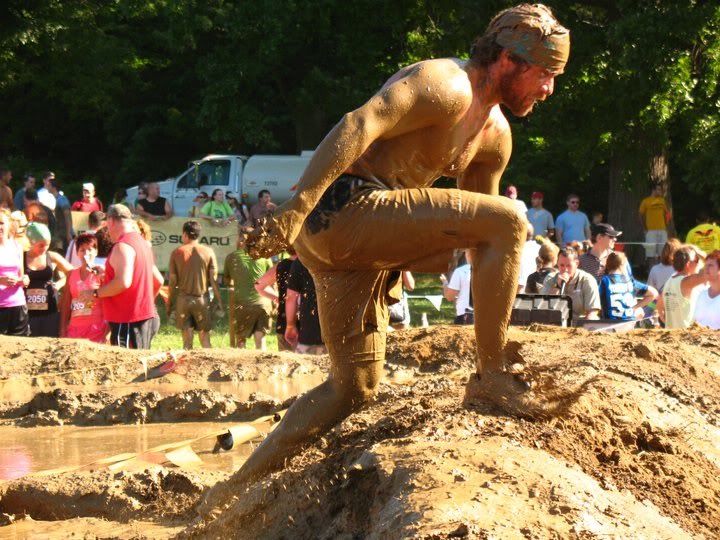 Brian Wright: Exercise Specialist/Bootycamp Instructor. I have spent almost ALL of my years training by myself....no partner, no mentor, no trainer......just me, and my desire to overcome challenge. I was approached in the weight room of a gym I was working out in recently, and asked what I was training for and I answered, "the Sport of Life".
I always refer my choice of lifestyle to others by that simple statement..."I don't want to be 38!".
I have so many reasons to appreciate the gift that I have been given.....to think, breathe, emote, and move..... and realize that the only way to selflessly consume these wonderful gifts for as long as possible, is to put back what I am taking. Defy age, defy illness,  and do what makes me feel good and whole. I want to enjoy my family, my wife and children, as well as set an example for them to know that we are given is a gift and we must do our best to respect and maintain what we have so we can continue to think, breathe, emote, move, and love!
I suppose I am an avid fan of testing my body and mind......thinking that if another human being is capable of such greatness, and limitless possibilities, I am capable as well. With this understanding, I obviously needed to prepare myself for failure upon countless attempts. I knew that I wouldn't stop until I was able to achieve my goal at hand...... and with that...I knew I needed enough muscle on my body to bounce off of failure, and not just break.
So here I am bouncing off of my failures, and hoping to share with others the wisdom that I have been fortunate enough to walk away from, and pass along to others to consume....... because it isnt considered wisdom, unless it is shared, and digested by others for their own interpretation.....
Danielle Lombardo: Holistic Health Practitioner, Nutritional Trainer.  Danielle graduated from the Universite Libre de Bruxelles, Belgium with a MA, in Journalism and Social Communications.  She moved to the USA and worked at the Nautilus of America and Kempo Karate Studios as a trainer and a Karate instructor.  She holds a black belt in Kempo Karate.  She joined Cigna Corporation as Director of Conference Services and Program Management for Cigna's conference center, Eagle Lodge, in Lafayette Hill, Pa.  She later became Director of Event Management and Business Programming for the company at large. She was instrumental in introducing healthier fares at Cigna's conference center but also in changing the culture at Cigna's national meetings by offering its employees healthier food choices while participating at conferences.  While raising her children, she obtained her Holistic Health Practitioner credentials from the American College of Healthcare Sciences, Portland, Oregon fulfilling her passion for promoting health through food and preventing diseases through the principles of a holistic approach to life.  Danielle now lives in Ocean City, NJ with her husband and two children.  She lives and shares her passion for wholesome food and keeps active playing tennis, practicing yoga and pilates.
The group classes are focused on the individualized approach in a group setting.  We strive to meet the overall goal of the class while addressing each...

Total Speed Training consists of retraining the entire body to move in an efficient and powerful way.  By increasing range of motion and...

One on one training is offered at Exodus by our highly qualified team of exercise specialists.  After a comprehensive evaluation, goals are set and a...
 

2013 INTEGRATED FITNESS

"Wellness is the integration and balance of your mind, body and spirit"

EXODUS IS EXPANDING!


Exodus Sweat Shop is in construction.  We are expanding our boundaries to offer you a place to get Strong, Fit and Sweat it Out!  Whether you are looking to increase athletic performance or bring out your inner athlete for the sport of life.....Exodus Sweat Shop is going to be the place to find your true potential.  Come see for yourself.  Open June 1st!  Complimentary first time visit.

UPCOMING EVENTS:

OC TRI Race Prep Bike/Run Workout, Thursday, May 9th 5:30am.  Come learn about bike, run, transition and race day prep.

Life as Meditation with Shanti Desai, Sunday, May 19th 9am-3pm.

Ocean City Tri/Dualthon, Sunday, May 19th.

STAND UP FOR SEALS PADDLE AND OBSTACLE RACE, Saturday, May 25th 7:30am-Exodus is putting teams of 4 together for Obstacle Course 2 mile Beach Challenge. Saturdays and 7am and Sundays at 10:15am are Obstacle training classes.

Expand Yourself Meditation and Yoga Flow with Amy Godfrey Sunday May 26th 9am.  Smoothies and Juices freshly prepared afterwards by our Holistic Nutritionist DanielleLombardo.

 

MAY SPECIAL.....GET BEACH BODY READY

Meet with our Nutritional Trainer, Get our customized "beach body" nutrition plan, 1 month of unlimited group classes and daily motivation and guidance through email consulting for $200

Purchases must be made in May




**Like and Follow us on Facebook for Daily Updates and News**


We do ask that you call or email to make an appointment before coming to Exodus.  If you are looking for information on joining classes, beginning a training program or coming in for a massage, we kindly ask that you email or call to make an appointment so we can assist you properly.  Thank you.